The 24th of December is not so far, but if you don't have put a tree up yet, i will suggest to take a look at of these Christmas tree ideas (which of course are not all mine)! 😀
Green trees, snowy ones, classic with gold and red, or blue and…
So, now get comfortable, maybe with a good hot chocolate to sip, and get some ideas for your next tree!
Christmas tree ideas
White and Gold
It's classy and chic the tree made by the Italian Interior designer and decorator owner of the Home decor boutique in Rome Mobilcasa Eur. And to give a different touch, breaking the well known match of white and gold, here we have the transparent balls!
Red, gold and tartan
Tartan is the Scottish touch I could never forget in a Christmas decorations. Therefore, this year, for my tree, i chose a tartan red ribbon bought at Michael's that perfectly matches with some plaid bows i had bought years before in Rome.
…And, by the way, Santa under a Christmas tree is always a good idea!
Christmas tree ideas: the industrial touch
A lot of still warm lights, and instead of ribbons and balls, metallic frames. This interior it's the perfect halfway between a farmhouse style and industrial one, where the metal of the frames strategically recalls the legs of the table.
However, speaking about the tree, although we don't see traditional decorations on this one, how cozy would it be to have nice and cute family portraits in those silvery metallic frames?
I am a red and gold lover, but I have to say that this idea absolutely amazes me! It's a different way to personalize our family Christmas in a different and original way!
Blue and Gold.
When i "landend" on Jen Woodhouse website, i terribly and desperately fell in love with this Christmas tree! And like i said, i am more for red, gold etc, but this one…This tree has something…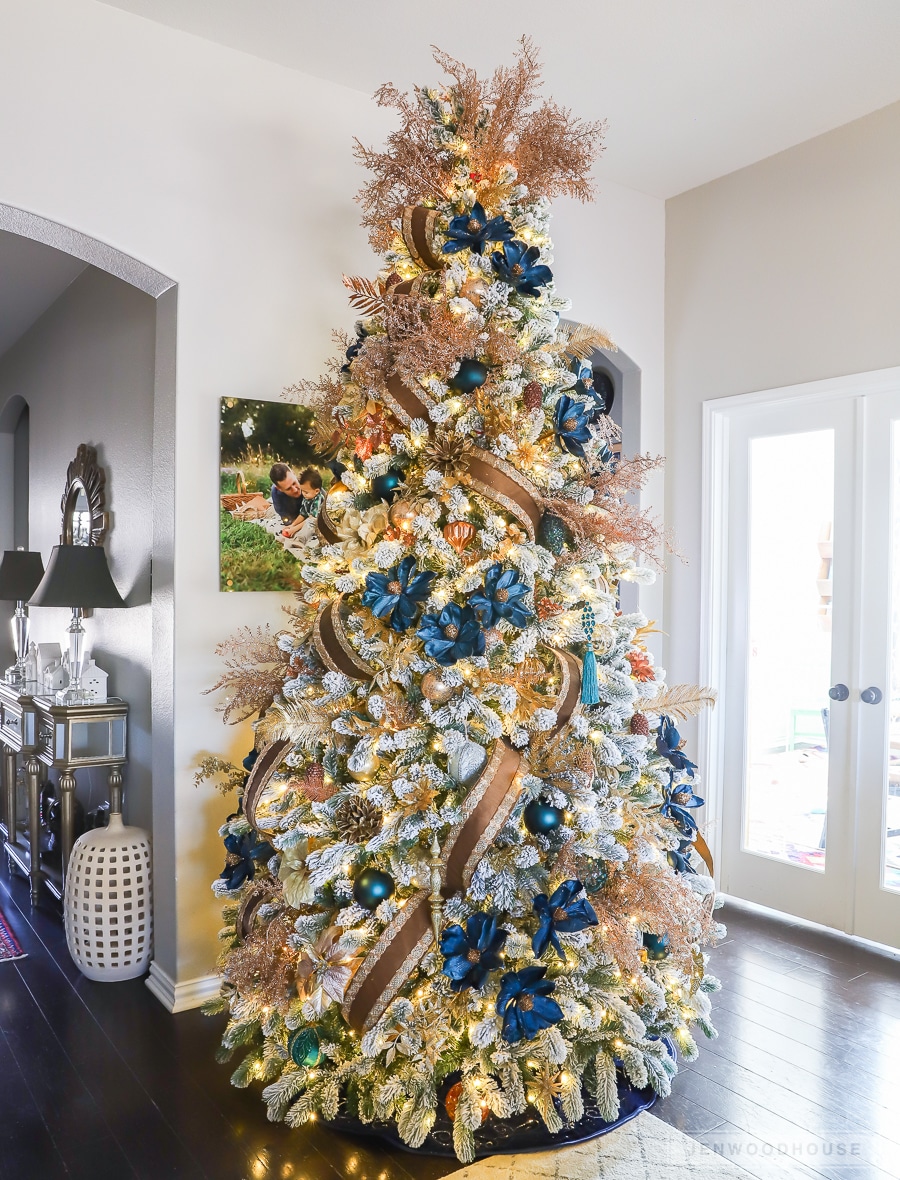 Firstly, because it has great lights, not small at all, like a miniled could be; secondly, because the blue Magnolias really stand out thanks to the contrast of the snow with the light bronze ribbon.
Simply….W O W!
But do you really want to know which tree is my fav one? Well, I am Roman, so….Beolw you have the answer!
And no, it is not a painting… 😀